Profile for
ASA Social Fund for Hidden People
Current location: Latitude: 40.370674 Longitude: -80.042671


Member Since: February 23, 2015
Address

315 Orchard Drive


Mt Lebanon
,
PA
15228
Phone
412 207-2939

Birthdate, or Organization founding date
Private
Email

Organization type
Non Profit
Tax ID
36-4813217
Description/Profile/About
The ASA Social Fund for Hidden Peoples is a USA based charity with 501 (C) 3 status which supports Uganda non-profit organizations who provide financial support for vulnerable and fragile adults and children who are impacted by extreme poverty, gender violence, civil strife, abandonment, and physical disabilities. Financial support is provided by private donations and the sale of crafts and books through the ASA Enterprises, LLC

For more information about the organizations we support, Visit:
http://www.asasocialfundforhiddenpeoples.org

Organizations we support:

Bright Kids Uganda is a children's home located near Entebbe, Uganda. Victoria Nalongo Namusisi co-founded the home in 2000 and is currently the Director.
Bright Kids Uganda Mission is to rescue vulnerable and economically disadvantaged children from their dire circumstances in which they are currently living by providing housing, their basic necessities and education.
Bright Kids Uganda Vision is to establish long term community-based homes for orphaned, abandoned and neglected children and to provide education, job training, and medical care.
ASA Foundation seeks funds to:
• Support educational scholarships for Bright Kids Uganda residents and children who live in their own homes but need scholarship support
• Provide support for income generation
• Provide investment money for Bright Kids Uganda small loan fund
• Help sponsor special projects for Bright Kids Uganda (emotional/counseling support for PTSD, etc)

CERESAV is the Centre for Rehabilitation of Survivors of Acid and Burns Violence. Its Vision is to have an acid violence-free Uganda where survivors live with dignity. Hanifa Nakiryowa, an acid survivor, founded CERESAV in 2012 and is the current Founding Director.
CERESAV Mission is to prevent acid and burns violence and empower survivors by working with an integrated approach using a replicable holistic model which engages all national and international stakeholders and is backed by research, experience and evidence.

ASA Foundation seeks funds to:
• Disseminate information on Acid attacks and gender violence in Uganda and Africa
• Develop a shelter for acid attack victims as a halfway house for rehabilitation
• Create an educational fund to provide training and rehabilitation for marketable skills
• Develop a small loan fund for acid attack and burn victims of gender violence to help develop businesses both rural and urban
• Make available basic healing and health supplies for acid attack victims while hospitalized and for after care
• Provide support for transportation to and from the hospital for those providing support and counseling to hospitalized victims

The Great Kings and Queens
Children's Centre

Bugembe Medi was a former street child who was rescued by Victoria Namusisi from Bright Kids Uganda. After leaving Bright Kids at the age of 18, he founded and is now Director of his own children's home and school, The Great Kings and Queens Children's Home.
Currently, Medi provides support for 467 children ages from five through thirteen. Many of the children have been impacted by extreme poverty, were former street children or from families who are so poor that they cannot support them. He provides for them an education within the Centre in addition to housing for those who have no home.
ASA Foundation seeks funds to:
• Develop a basic needs fund to provide support for food, clothing, bedding, medical supplies and school supplies
• Create a scholarship fund for Secondary Education for top graduates
• Provide training support for staff and volunteers

Advocates for Children with Disabilities

The Parents with Children with Disabilities Uganda organization was founded in 2013. They began with a small group of parents who were seeking support and advice for providing support for their children who have severe disabilities. Beginning with seven families, they have now grown to over 80 families.
Meeting once a month, parents gather to seek emotional support, share information, and provide medical and educational advice for each other.
ASA Foundation seeks funds to
• Provide equipment, medicine, standers, leg braces and medical supplies
• Provide funds for accessible related facilities and devices such as handicapped accessible latrines, ramps, etc
• Provide information on special needs issues beneficial for parents and providers
• Create an educational fund
• Access to micro loans
What would you do to change the world?
This user has not yet answered this question.
This is a place to sing your song and let your voice be heard. Define Coo
Created Initiatives
Created Light on the World Spotlights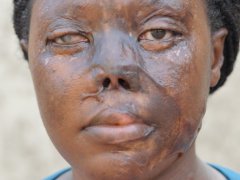 Rights
Urge President Museveni of Uganda to pass the acid attack bill by the end of 2015!
We, the Center for Rehabilitation of Survivors of Acid and Burns Violence (CERESAV), call on Ugandan President Yoweri Museveni Kaguta to sign the Acid Violence (Toxic Chemicals Prohibition and Control) Bill in to law in 2015!
Acid violence refers to the premeditated act of throwing corrosive acid on a person's face and body with the intent to disfigure, torture, or kill. In these vicious attacks, the acid melts the flesh, sometimes to the bone, and causes lifelong scarring, physical disfigurement, and in many cases, permanent disability including blindness and immobility. In the words of one Ugandan survivor, "After the attack my only prayer was to die. The pain was too much for me to handle. Whenever I could look at my body, many questions could come into my mind like, 'Why was I born?' and 'Why me among all?' When my case was reported, I was so disappointed to hear the police officers telling me that I should let the perpetrator go because in the Ugandan constitution there is no law against acid attack. This just increased on the pain, that I had to see someone who did this to me walking freely because of the weak laws."
Acid violence is on the rise in Uganda. Estimates suggest that over 400 acid attack survivors live in the capital city of Kampala alone. Other countries that have high rates of acid violence such as Bangladesh, Pakistan, Cambodia, and India have passed legislation regulating the sale of acid and lengthening prison times for perpetrators. These types of legislation have significantly reduced the number of attacks. It is time that Uganda does the same!
The Toxic Chemicals Bill is an important first step. If signed into law, perpetrators of acid attacks could face up to life imprisonment. The next step is to call on the Ugandan government to follow the example of other countries and pass legislation that is specific to acid violence and that mandates free medical care and legal aid to survivors, licensing of acid vendors, and the penalization of those who aid and abet in acid violence.
Join CERESAV and the survivors we serve in calling on H.E. President Yoweri Museveni Kaguta to sign the Toxic Chemicals Bill in to law! Share your voice and let him know that not only Uganda, but the international community is calling on him to take this important first step in fighting acid violence in Uganda.
Letter to
Ugandan President Yoweri Museveni Kaguta
Urge President Museveni of Uganda to pass the acid attack bill by the end of 2015!
PLEASE VISIT THIS LINK HERE TO SIGN THE PETITION FOR THE APPROVAL OF THE TOXIC CHEMICALS BILL. HELP US PUT AN END TO ACID VIOLENCE. YOUR SIGNATURE MAKES A DIFFERENCE
https://www.change.org/p/ugandan-president-yoweri-museveni-kaguta-urge-president-museveni-of-uganda-to-pass-the-acid-attack-bill-by-the-end-of-2015?recruiter=442983358&utm_source=share_petition&utm_medium=facebook&utm_campaign=share_for_starters_page&utm_term=des-lg-no_src-no_msg#petition-letter

4

Dec 17, 2015

Rights
Hanifa before the acid attack
After suffering a brutal acid attack in 2011 at her estranged husband's home in Makerere University-Kampala, the founder of CERESAV (Centre for Rehabilitation of Survivors of Acid and burns Violence); Hanifa Nakiryowa, a graduate with a master's degree in Economics and a mother of two bravely decided to become an outspoken advocate to raise public awareness and to speak out against this type of violence.
She strongly believes that her physical scarring has not at all affected her true personality. She believes she is still the same person inside with similar ability to do things and to cause change like any other normal person. She has demonstrated her commitment and dedication through providing emotional support to the victims of acid violence, increasing awareness raising, lobbying for collective efforts to fight this barbaric act through the media both nationally and internationally.
She has conducted a series of advocacy and awareness raising interviews in a number of forums as a step towards her vision of zero tolerance to acid violence;
Hanifa working at Uganda Acid Survivors Foundation:
Hanifa and Rita planning Ceresav Meeting
Ceresav Founding Members:
 Advocacy articles on acid attacks around the world.
http://uk.news.yahoo.com/acid-attacks-around-the-world--hanifa%E2%80%99s-story-
090322137.html#RMKsrpO
http://www.thetimes.co.uk/tto/news/uk/article3838181.ece
 Awareness raising articles on the effects of acid violence.
http://www.newvision.co.ug/news/638144-how-domestic-violence-affects-innocent-
children.html
http://www.newvision.co.ug/news/637806-csi-an-acid-attack-that-turned-into-
murder.html
 CNN London and ITN TV interviews on Acid Violence as a global phenomenon.
http://connecttheworld.blogs.cnn.com/2013/05/24/woman-scarred-by-acid-attack-speaks-
out/
http://www.itv.com/news/meridian/topic/hanifa-nakiryowa/
http://www.itnsource.com/en/shotlist//ITN/2013/05/30/T30051308/?v=2
Source, retrieved on 2/23/15:
http://ceresav.org/?page_id=6852
PLEASE WATCH THIS VIDEO:
Unveiling the Scars

8

Feb 23, 2015
Created Planet Sanctuary Spotlights
This user has not yet created any Planet Spotlights.
Created Light of Culture Spotlights
This user has not yet created any Culture Spotlights.
Sponsored Initiatives*
This user has not sponsored any initiatives, or has sponsored all initiatives privately.
*Initiatives sponsored privately, if any, will not be shown.
Lifts (Votes)*
*Private Lifts, if any, will not be shown.
Connected with*
*Private connections, if any, will not be shown.
Connections from*
*Private connections, if any, will not be shown.
This user has not made any comments.