Profile for
Yeshiva Shalom Rav
Current location: Latitude: 32.964649 Longitude: 35.495998


Member Since: January 22, 2015
Address
Private
Phone
Private
Birthdate, or Organization founding date
01/01/1993
Email

Organization type
Non Profit
Tax ID
Private
Description/Profile/About
Yeshiva Shalom Rav in Tsfat, Israel, is a school for young adults to learn about their heritage. We provide, daily meals, dormitory, inspirational classes, and a special Shabbos experience, all within a warm, accepting environment. See our video https://www.youtube.com/watch?v=O3iHXj8hDo0
What would you do to change the world?
This user has not yet answered this question.
This is a place to sing your song and let your voice be heard. Define Coo
Created Initiatives
Education
Yeshiva Shalom Rav in Tsfat, Israel, is a school for young adults to learn about their heritage. We provide daily meals, dormitory, inspirational classes, and a special Shabbos experience, all within a warm, accepting environment. See our video below

10

Jan 29, 2015
Funded: 3 $112.00
Created Light on the World Spotlights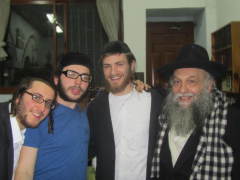 Teachers
Rabbi Rafael Weingot received his education from Rabbi Shlomo Freifeld, o.b.m., founder of Yeshiva Shor Yoshuv, in Far Rockaway ,New York, which is known as one of the finest institutions in America. Rabbi Weingot has continued this legacy in Israel for the last 25 years, and has inspired and successfully helped hundreds of youth who have studied here. In the unique spiritual atmosphere of Tsfat, home of the kabbalah, a person can reconnect to his inner soul. For more information, he can be reached at +972-4-692-3643.

3

Jan 22, 2015
Created Planet Sanctuary Spotlights
This user has not yet created any Planet Spotlights.
Created Light of Culture Spotlights
This user has not yet created any Culture Spotlights.
Sponsored Initiatives*
This user has not sponsored any initiatives, or has sponsored all initiatives privately.
*Initiatives sponsored privately, if any, will not be shown.
Lifts (Votes)*
*Private Lifts, if any, will not be shown.
Connected with*
No one has connected with the user yet, or all the connections are private.
Connections from*
*Private connections, if any, will not be shown.
This user has not made any comments.