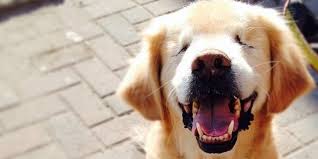 One look at Smiley, and you can tell how he earned the name.
But it's the smiles the Golden Retriever puts on the faces of other people that may be his most lasting legacy.
Excerpt retrieved from Global News:
http://globalnews.ca/news/1879093/meet-smiley-blind-golden-retriever-brings-joy-to-ontario-town/
"People were so drawn to him, so inspired by him," Smiley's owner Joanne George told CBS News. "I realized this dog has to be a therapy dog — I have to share him."
Smiley was born without eyes, and also suffers from dwarfism, meaning his legs are shorter than most dogs of his breed.
George said she found Smiley in a "puppy mill" when he was around two years old. According to a post on her website, Training the K9 Way, she knew his disabilities had left him neglected as a pup.
"He was extremely destructive and had zero housetraining. He was nervous and had many anxieties about coming into a home," George wrote. "He cowered at the sound of another dog eating – the scars on his face and ears told me the stories of what it was like living with so many dogs in such deplorable conditions."
Raising Smiley proved a challenge, as George had to teach a dog with no prior formal training, while overcoming his inability to see.
"He did not know one verbal command – I communicated only through my energy to him," George wrote. "He did not see my body language – he used his nose and his keen sense of hearing to get around."
Over a decade later, Smiley has found a unique way to bring some smiles to his community of Stouffville, Ontario.
Today he's a certified therapy dog with the St. John Ambulance therapy dog program, a job he's held for over seven years.
Whether it's stopping in to visit local schools, playing with special needs children at the local library, or offering companionship to the residents of a nursing home – Smiley helps to bring some joy to people young and old.