A place to see good, share good, and do good.
This Initiative was created on Jan 29, 2018 @ 08:52:18 pm

Project by
Gedaliah Aronson

Visit profile page for more!
Contact Infomation
Use this to verify that the initiative creator is who he says he is.
If any of the information is incomplete feel free to ask the creator for more details.
Address
Private
Phone
Private
Birthdate, or Organization founding date
Private
Email
Private
Organization type
Individual
Browse Initiatives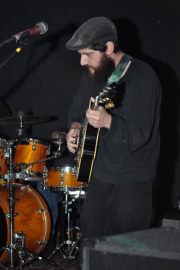 Hi My name is Gedaliah Aronson and I am a Project Ambassador and Concierge for Blupela, The One World Blue Network. We are working to create Social Harmony and Planetary Healing through the use of social media and networking. I am eager to work with you and your businesses, organizations, crafts, trades and arts of all kinds, etc. and to help you achieve your online media goals.
I am a musician and initially came out to Pittsburgh,Pa to attend Duqusene University studying music therapy, however I did not stay at the university more than the 1st year. At the time I was also beginning to thirst for more knowledge and connection with my Jewish heritage and found a home in the Jewish Community here in Pittsburgh which is where I met Joel Pirchesky, founder of Blupela and the One World Blue Network. I've been very fortunate to be involved in music here in the city helping to run open stages and jam nights playing in the house bands at times as well as playing in different bands and projects. Currently my musical focus has been with my band Chillent, we are essentially an Americana roots type band with much Jewish over and undertones. I'm very blessed to be a part of it and we can be found here on Blupela and elsewhere online (some links below); we released our first album Jewish Soul Stew in June of 2017.
What brought me to Blupela was my relationship with my good friend Joel and his belief that I could make a positive contribution to this network through my music and writing and my desire to be involved in positive work and bringing people together. I'm very grateful to be here and help the vision and goals of this site come to fruition with G-d's help!
I think something we could all do for each other a bit more is make space for one another. When G-d created(s) the world He had to make space within Himself, so to speak, to make room for our existence, our reality, "down here". We need to be space makers for each other, and for G-d.
© 2014-2023 One World Blue, LLC ®