Profile for
Rege Behe
Current location: Latitude: 40.449501 Longitude: -79.987999

Member Since: March 4, 2015
Address
Private
Phone
Private
Birthdate, or Organization founding date
Private
Email
Private
Organization type
Individual
Description/Profile/About
What would you do to change the world?
This user has not yet answered this question.
This is a place to sing your song and let your voice be heard. Define Coo
Created Initiatives
This user has not yet created any Initiatives.
Created Light on the World Spotlights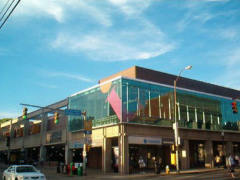 Rights
Civics 102: Know Your Rights
By Rege Behe
The Squirrel Hill branch of the Carnegie Library of Pittsburgh (CLP) is providing an opportunity for those who ascribe to Thomas Jefferson's theory that "An informed citizenry is indispensable for the proper functioning of the republic."
On March 19 and 26, 2015, the library will offer Civics 102: What are the Government's Responsibilities to Its Citizens? in conjunction with the Pittsburgh chapter of the American Civil Liberties Union of Pennsylvania.
"The library's mission is to engage our community in literacy and learning, and there are many types of literacy," says librarian Aisha Goodman. "Knowing about your government, its responsibilities to you, and your responsibilities to it is civic literacy, and the library can play an important role is making sure citizens are informed and able to be a part of their community."
Civics 102 follows the Civics 101 series offered in 2014 that was popular among Squirrel Hill library patrons. The first series was broad-based, but Civics 102 focuses on specific amendments and topics.
"We've been very lucky to be able to work with the Pittsburgh chapter of the Pennsylvania ACLU, and they've brought in outstanding speakers that have engaged the audience," Goodman says.
On March 19, the topic will be the Sixth Amendment. Discussions will focus on why the right to counsel is included in this amendment, the history of providing defense to the indigent, and how Pennsylvania meets this requirement. The presenter will be Ubong Akpan, a staff attorney with the Office of the Federal Public Defender.
On March 26, the discussion will consider whether or not the right to privacy is in the Constitution. Topics will include the origin of the concept of privacy and how it is enforced. The presenter is TBA.
All classes start at 6:30 p.m. and are free and open to the public. Each participant will receive a pocket-sized copy of the Constitution.
The Squirrel Hill branch of the CLP is located at 5801 Forbes Avenue.
To sign up for a Civics 102 class, or for additional information, call 412-681-7736, or email pghinfo@aclupa.org .

4

Mar 13, 2015

Healing
Comedy for a Cause to Benefit Myasthenia Gravis Association of Pennsylvania.
Noted comedians and one of Pittsburgh's most promising vocal talents will lend their talents to the fight against myasthenia gravis.
Comedy for a Cause will be held March 28, 2015, at the Morningside VFW. Proceeds from the evening will benefit the Myasthenia Gravis Association of Western Pennsylvania. Comedians scheduled to appear include David Kaye, a Pittsburgh native who has appeared with Drew Carey, David Brenner, Weird Al Jankovic and on Comedy Central; Tom Musial, also of Pittsburgh, who has shared stages with Jim Breuer and Eddie Ifft; and Lisa Dapprich, host of Date Night TV and a longtime regular at local comedy clubs.
Also scheduled to appear is singer Chris Jamison of Ross Township, who was a finalist on Season Seven of "The Voice" on NBC-TV.
Tickets for Comedy for a Cause are $35 and include admission, a buffet dinner and non-alcoholic beverages.
Myasthenia gravis is a chronic autoimmune neuromuscular disorder characterized by weakness of voluntary muscle groups. About 20 of 100,000 people in the United States are affected by the disorder.
Tickets are available at the Myasthenia Gravis of Western Pennsylvania office 490 East North Avenue #410, Pittsburgh, PA 15212. Phone: 412-566-1545: Website: www.mgawpa.org .
Tickets also are available through Slapsticks Productions: http://slapsticksprod.laughstub.com/event.cfm?id=367085&cart ,
The Morningside VFW is located at 1820 Morningside Avenue, Pittsburgh 15206.
More information about myasthenia gravis is available at www.myasthenia.org/ .

2

Mar 8, 2015
Created Planet Sanctuary Spotlights
This user has not yet created any Planet Spotlights.
Created Light of Culture Spotlights
This user has not yet created any Culture Spotlights.
Sponsored Initiatives*
This user has not sponsored any initiatives, or has sponsored all initiatives privately.
*Initiatives sponsored privately, if any, will not be shown.
Lifts (Votes)*
*Private Lifts, if any, will not be shown.
Connected with*
No one has connected with the user yet, or all the connections are private.
Connections from*
*Private connections, if any, will not be shown.
This user has not made any comments.