Profile for
Kevin Dolan Music
Current location: Latitude: 37.750999 Longitude: -97.821999


Member Since: May 20, 2020
Address
Private
Phone
Private
Birthdate, or Organization founding date
Private
Email
Private
Organization type
Individual
Description/Profile/About
What would you do to change the world?
This user has not yet answered this question.
This is a place to sing your song and let your voice be heard. Define Coo
Created Initiatives
This user has not yet created any Initiatives.
Created Light on the World Spotlights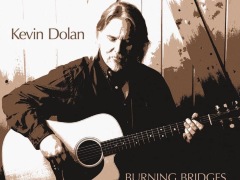 Music
" I channel the music. I'm am just a conduit for it. Most of the time, I am trying to get out of the way and to let things flow the way they flow."
Kevin Dolan is a singer/songwriter, multi-instrumentalist, recording artist, studio engineer, mastering engineer, and producer based in Ashville, North Carolina.
Born into a very musical family, it seems only natural that Dolan would have music embedded in his DNA. He began playing guitar at eight years of age, was learning piano and keys by 10, and soon after would take on the bass guitar. Dolan's two brothers took up the guitar as well, and the family band was going to need a bottom end.
" I believe that the purpose of music is to glorify God, but I think God wants to say a lot of different things."
Dolan draws from a deep well of musical influences from The Eagles and Steely Dan to Jackson Brown. From the late, great John Prine, to bands like Boston. Dolan appreciates the process of the music, writing itself through the work of his hands, voice, and heart. .
"The songwriting process always varies from song to song. Some songs are written over many years. I may have pieces of tunes that do not come to completion until long after I started working on them. At other times it's a focused effort to construct and sculpt an idea that does not begin clearly but materializes over several sessions. I like to let the music come together as it does, and often things come out in ways I had truly not expected. My latest release, "Burning Bridges," has that quality for me."
Dolans latest solo album "Burning Bridges" released in May of 2020 was a labor of great love and dedication. 13 tracks, all written or co-written by, arranged by, performed by, recorded by, mixed and mastered by, and produced by Dolan himself. Kevin is joined by his brother Patrick, and sister Kaeylea Vankieth on the track "The Only Everything " which the siblings co-wrote together. Paul Koptak spices this cut and several tunes on the album with the sound of his Sweet Dobro, bringing even more warmth to an already sultry sounding canvas.
"Making an album like this can be a daunting task if I view it from the angle of what it will take to complete the project. I've gotta break things down step by step because when you're self producing you are wearing many hats, but you can only wear one hat at a time. I've learned that I must compartmentalize the process or I will feel completely overwhelmed. This album has taught me a lot about approaching a self produced solo record."

1

May 26, 2020
Created Planet Sanctuary Spotlights
This user has not yet created any Planet Spotlights.
Created Light of Culture Spotlights
This user has not yet created any Culture Spotlights.
Sponsored Initiatives*
*Initiatives sponsored privately, if any, will not be shown.
Lifts (Votes)*
*Private Lifts, if any, will not be shown.
Connected with*
No one has connected with the user yet, or all the connections are private.
Connections from*
No one has connected with the user yet, or all the connections are private.
This user has not made any comments.