Profile for
Fred edwards kabogoza
Current location: Latitude: 1.000000 Longitude: 32.000000


Member Since: August 24, 2019
Address

kampala road, Mbale
Nkoma

Mbale
,
UG
00256
Uganda
Phone
+256773231138
+256756847414
Birthdate, or Organization founding date
04/04/1991
Email

Organization type
Non Profit
Tax ID
KYZG/055/2016
Description/Profile/About
My name is Fred edwards Kabogoza, Uganda and I am a computer Engineer, video Producer and Children Care Taker.

I am a Uganda based currently in Mbale, Eastern Uganda but born from Kampala. I have an orphanage project called Save Orphans and Disabled African Children (SODAC) and I have a technologically company called Dolphine Software Technologies. This company helps to support the orphanage project. https://sodacorganization.org
What would you do to change the world?
I want to support the poor orphanage children in Uganda and across Africa. I am working hard to meet the needs of those poor children and poor people in poor areas in Uganda and Africa at large.You can try to meet us at our website https://sodacorganization.org. To support these children we are working hand in hand with other well wishers to help join us to help the needy poor children. Through providing services at Dolphine Software Technologies Ltd, we have training centers for those children who have not completed their schools and we give vocational training services. Children in Uganda are facing a bigger challenge especially those from poor villages and orphans; they don't go to school nor do have some where to stay. But as SODAC Organization and Dolphine Software Technologies, we try to come up with these support for them and hence giving them a better life. Find us and follow us on www.facebook.com/sodacorganization and www.twitter.com/sodac31
This is a place to sing your song and let your voice be heard. Define Coo
Created Initiatives
Education
Do you have a heart for children who have a disability or handicap? If so, consider using your sponsorship to help support a child with special needs. Whether it is a mental disability, a learning disability, or a physical handicap, your sponsorship will help provide these children with the specialized care and support they desperately need. CLICK CHOOSE A CHILD and sponsor or send your support
We speak about vulnerable people; no person is more vulnerable than a child. Children's rights are the rights of children with particular attention to the rights of special protection and care accorded to minors. Because hundreds of children are affected daily by conflicts, poverty and human rights abuse. There is no trust more sacred than the one the world holds with children. There is no duty more important than ensuring that their rights are respected, that their welfare is protected, that their lives are free from fear and want and that they can grow up in peace.
Save Orphans and Disabled African Children has a very strong vision of improving the quality of life of the vulnerable children and orphans through provision of education and psychosocial support programs. Our aim is to realize the full potential of our Children. We want to ensure that they will be able to reintegrate their community as healthy, happy, responsible and independent adults.

2

Aug 24, 2019
Funded: 0 $0.00 / $5,000.00
Created Light on the World Spotlights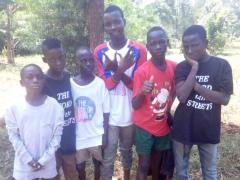 Child Safety
To Donate:
World remit: +256773231138
Western Union: Fred Edwards Kabogoza
Money Gram: Fred Edwards Kabogoza
....................................................................................................................................................................................

Summary
Housing is a basic need in life, but due to high levels of poverty in Uganda many families have no access to decent housing. Community Shelters Uganda are building houses for 50 families who are currently homeless or in inadequate and unsafe housing and providing pit-latrines, bathrooms and water tanks for harvesting clean water. These houses will be built for targeted vulnerable people, such as the elderly, HIV/AIDS affected and infected mothers and children.
Challenge
Mbale District is one of the districts found in Eastern Uganda that have been adversely affected by poverty since independence. According to the needs assessment report conducted by Community Shelters Uganda (CSU), the district had an estimated population of 361,329 of which about 42% are in abject poverty without decent homes. Many years of poverty have undermined the population's capacity to be self-sufficient and have reduced the community development to deplorable levels.
Solution
The project will provide simple decent houses for the selected needy homeless families, Improved pit-latrines, bath rooms and waters tanks for harvesting clean / safe water to targeted groups such as the elderly persons, HIV/AIDS affected and infected mothers and children. Better houses will drastically reduce on malaria prevalence and many other health challenges that have affected these communities over time.
Long-Term Impact
The project will contribute sustainably to the improvement of living standards of the underprivileged. Better housing for vulnerable groups such as the elderly or HIV/AIDS affected families will drastically improve health and sanitation conditions in the long term for the whole community, including reducing the impact of malaria.

1

Sep 6, 2019
Created Planet Sanctuary Spotlights
This user has not yet created any Planet Spotlights.
Created Light of Culture Spotlights
This user has not yet created any Culture Spotlights.
Sponsored Initiatives*
This user has not sponsored any initiatives, or has sponsored all initiatives privately.
*Initiatives sponsored privately, if any, will not be shown.
Lifts (Votes)*
*Private Lifts, if any, will not be shown.
Connected with*
No one has connected with the user yet, or all the connections are private.
Connections from*
No one has connected with the user yet, or all the connections are private.
This user has not made any comments.