A place to see good, share good, and do good.



LIFT 1 Lifted
What's
this? Your lift is: privatepublic.
Change to publicprivate.
This World Spotlight was created on Apr 16, 2019 @ 07:53:57 am

Project by
Taste of Pittsburgh

We are taking Legends and Legacies and moving it over to a digital platform. I am extremely excited to partner with One World Blue, www.oneworldblue.com. It is a Global Platform where we share stories of people who have made a difference and changed the world to become a better place. We drive stories regionally through social media as well as nationally and on an international stage for the most exposure and connections with individuals from all over the world. It's been a world-wide platform but we are putting an extensive amount of energy into regionalizing our platform. We share stories like yours where we drive them in the Pittsburgh region and other areas to maximize the most possible potential to have your story told. This partnership will allow me to use this technology to continue to inspire and uplift individuals in a day and age where everyone relies on the digital space. We are therefore very grateful and excited to have the opportunity to create this partnership with One World Blue. You have made a difference to so many people's lives and one which should be shared with not only the Pittsburgh region but to the world. Your story will touch lives which will bring understanding and healing to those who read and share it. We are looking forward to connecting you with more individuals and communities to share your life and touch them in a deep way. Please also know that our company structure is one in which we are walking the walk as well and we are giving 15 to 20 % of our company profit to both local, national and international charities.
Visit profile page for more!
Browse Light on the World Spotlights
Child Safety The Mel Blount Youth Home of Pennsylvania
NUMBER 47 NEEDS NO INTRODUCTION.
Hall Of Famer Melvin "Mel" Blount is a household name in Rivertown. He's helped Pittsburgh win four Super Bowls, led the NFL in receptions, and has won countless national awards including the NAACP's Human Rights Award.
We know him, we love him... Now, we're taking a look at what some call Mel's greatest work, The Mel Blount Youth Home of Pennsylvania.
Opened in 1989, the Youth Home is a treatment program where young, male victims of abuse or neglect can come recharge their batteries on a working farm. Located on 300 acres in Washington County the Youth Home houses up to 24 males between the ages of seven to 17 years.
When they get to the farm, these children are placed in customized treatment plans. Pre-adolescent campers utilize varying therapeutic techniques such as play therapy activities, music therapy, reality therapy and anger management. Mel sees the camp as an opportunity for children YOUTH to offer short-term emergency shelter as well as long term residency. While visiting, the kids stay in log cabins on the farm and work on goals set forth by the Blount team. They have a chance to work on reestablishing relationships, improving communication skills, learning discipline, accepting responsibility and creating boundaries for themselves.
The Blount Home strives to teach responsibility, knowledge and respect for oneself, to benefit from his life experience in a productive and challenging setting.
MEL BLOUNT YOUTH HOME
6 Mel Blount Drive
Claysville, PA 15323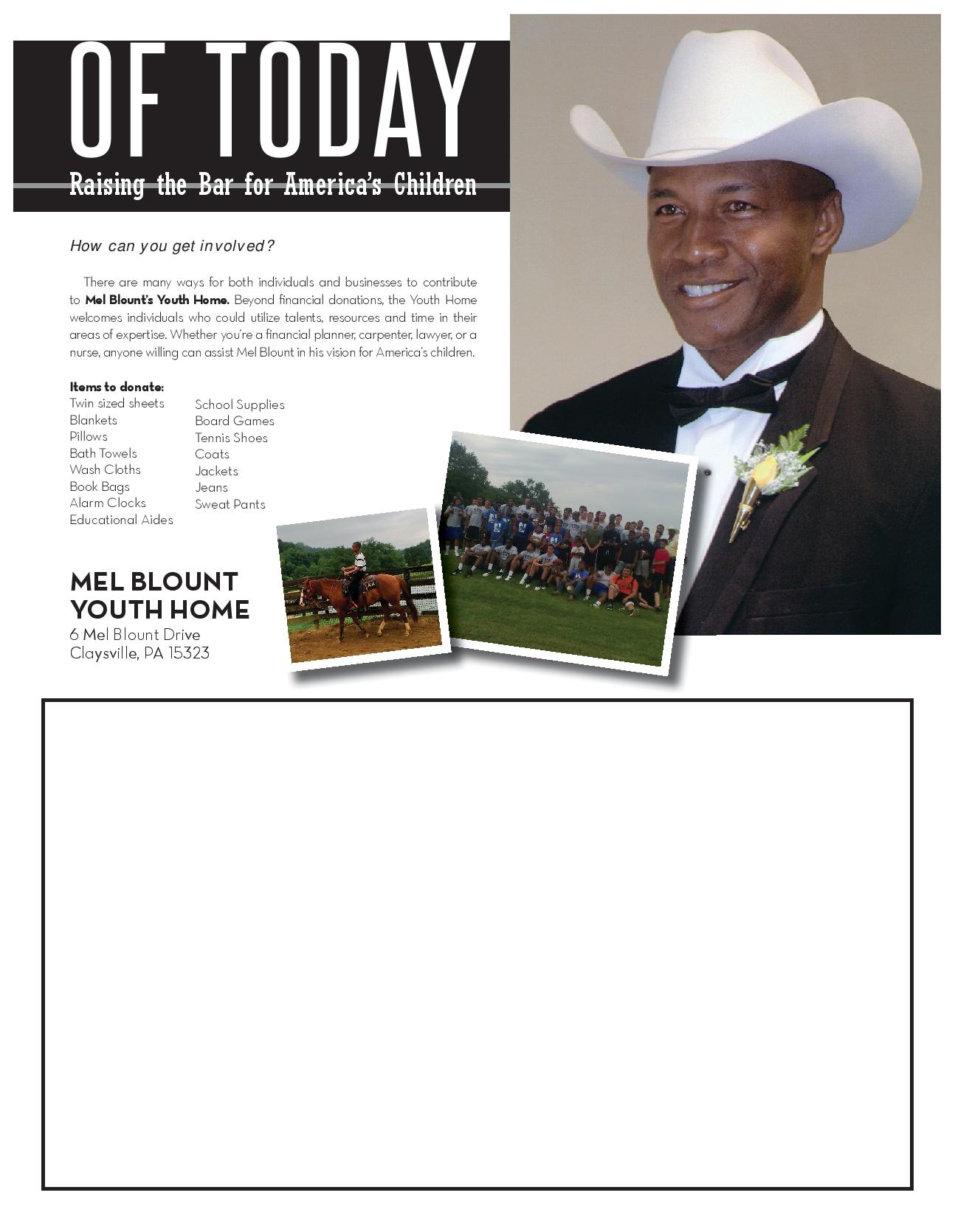 There are many ways for both individuals and businesses to contribute to Mel Blount's Youth Home. Beyond financial donations, the Youth Home welcomes individuals who could utilize talents, resources and time in their areas of expertise. Whether you're a financial planner, carpenter, lawyer, or a nurse, anyone willing can assist Mel Blount in his vision for America's children.
Items to donate:
Twin sized sheets
Blankets
Pillows
Bath Towels
Wash Cloths
Book Bags
Alarm Clocks
Educational Aides
School Supplies
Board Games
Tennis Shoes
Coats
Jackets
Jeans
Sweat Pants
MEL BLOUNT YOUTH HOME
6 Mel Blount Drive
Claysville, PA 15323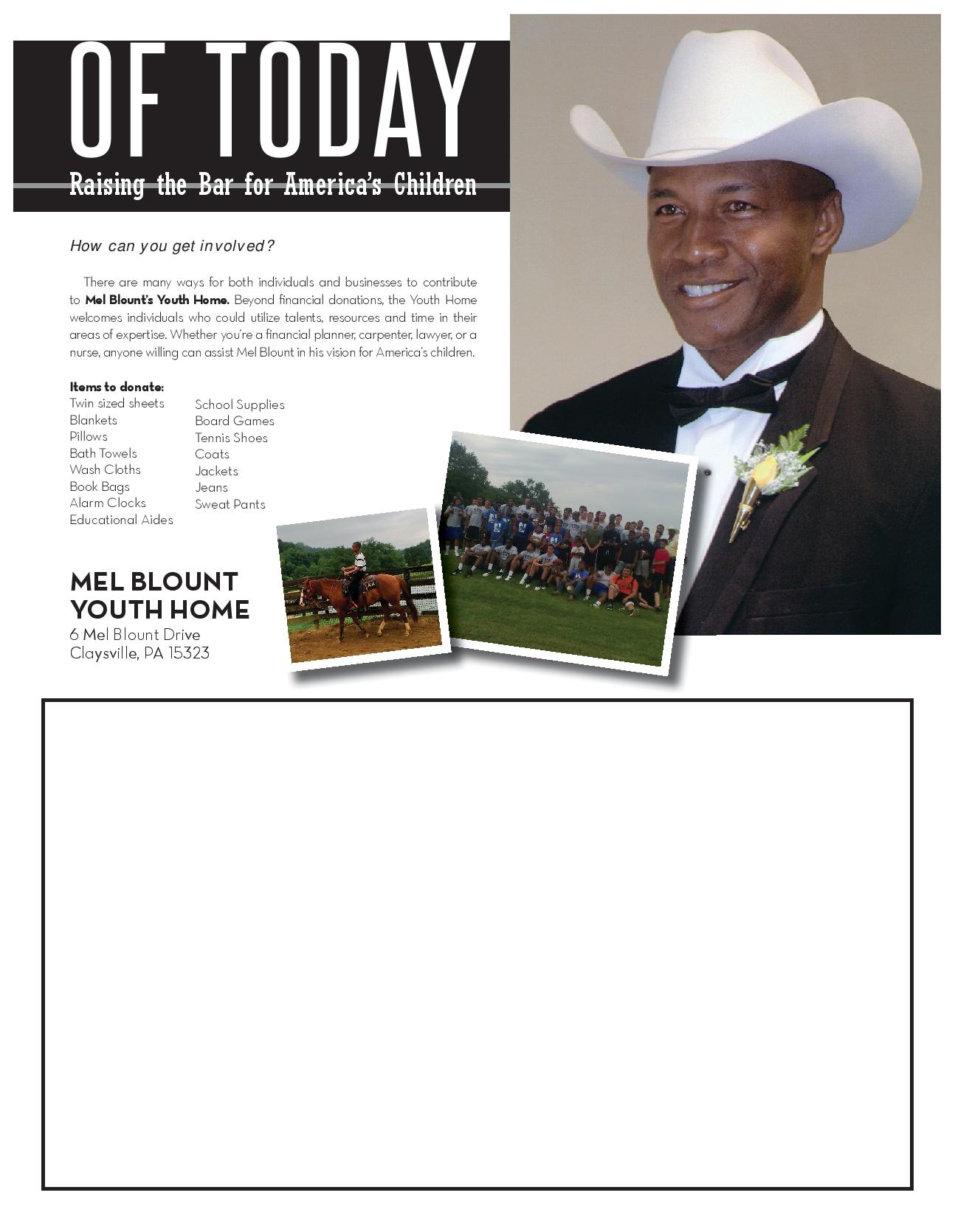 © 2014-2020 One World Blue, LLC ®