The Balinese (Indonesian: Suku Bali) are an ethnic group native to the Indonesian island of Bali. The Balinese population of 4.2 million (1.7% of Indonesia's population) live mostly on the island of Bali, making up 89% of the island's population.[3] There are also significant populations on the island of Lombok, and in the eastern-most regions of Java (e.g. the Municipality of Banyuwangi).
The Balinese originated from three periods of migration. The first waves of immigrants came from Java and Kalimantan in prehistoric times and were of proto-Malay stock.[4] The second wave of Balinese came slowly over the years from Java during the Hindu period. The third and final wave came from Java, between the 15th and 16th centuries, about the same time as the conversion to Islam in Java, causing aristocrats and peasants to flee to Bali after the collapse of the Javanese Majapahit Empire in order to escape Mataram's Islamic conversion. This in turn reshaped the Balinese culture into a syncretic form of classical Javanese culture mixed with many Balinese elements.[5]
A DNA study in 2005 by Karafet et al., found that 12% of Balinese Y-chromosomes are of likely Indian origin, while 84% are of likely Austronesian origin, and 2% of likely Melanesian origin.[6]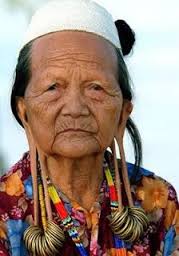 Balinese culture is a mix of Balinese Hindu-Buddhist religion and Balinese customs. It is perhaps most known for its dance, drama and sculpture. The island is also known for its Wayang kulit or Shadow play theatre. Even in poor rural and neglected villages, beautiful temples are a common sight; and so are skillful gamelan players and talented actors.[7] Even layered pieces of palm leaf and neat fruit arrangements made as offerings by Balinese women have an artistic side to them.[8] According to José Miguel Covarrubias, works of art made by amateur Balinese artists are regarded as a form of spiritual offering, and therefore these artists do not care about recognition of their works.[9] Balinese artists are also skilled in duplicating art works such as carvings that resemble Chinese deities or decorating vehicles based on what is seen in foreign magazines.[10]

The culture is noted for its use of the gamelan in music and in various traditional events of Balinese society. Each type of music is designated for a specific type of event. For example, music for a piodalan (birthday celebration) is different from music used for a metatah (teeth grinding) ceremony, just as it is for weddings, Ngaben (cremation of the dead ceremony), Melasti (purification ritual) and so forth.[11] The diverse types of gamelan are also specified according to the different types of dance in Bali. According to Walter Spies, the art of dancing is an integral part of Balinese life as well as an endless critical element in a series of ceremonies or for personal interests.[12]
Traditionally, displaying of female breasts is not regarded as immodest. Balinese women can often be seen with bared chests; however, a display of the thigh is considered immodest. In modern Bali these customs are normally not strictly observed, but visitors visiting Balinese temples are advised to cover their legs.
In the Balinese naming system, a person's rank of birth or caste is reflected in the name.[13]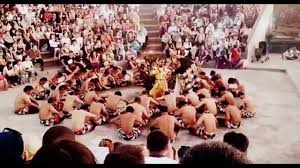 The vast majority of the Balinese believe in Agama Tirta, "holy-water religion". It is a Shivaite sect of Hinduism. Traveling Indian priests are said to have introduced the people to the sacred literature of Hinduism and Buddhism centuries ago. The people accepted it and combined it with their own pre-Hindu mythologies.[15] The Balinese from before the third wave of immigration, known as the Bali Aga, are mostly not followers of Agama Tirta, but retain their own animist traditions.
Retrieved from:
https://en.wikipedia.org/wiki/Balinese_people