A place to see good, share good, and do good.



LIFT 4 Lifted
What's
this? Your lift is: privatepublic.
Change to publicprivate.
This Planet Spotlight was created on Jan 10, 2016 @ 02:02:59 am

Project by
Iris Pirchesky

Iris Pirchesky, mother and respected counsel of the founder of One World Blue, Joel Pirchesky, has been an advocate and teacher of the special needs for over 25 years working with art therapy and counseling. Iris has a degree in psychology and art therapy and completed an internship at the Western Pennsylvania school for the deaf and school for the blind. Iris has worked with many types of disabilities, among them have been cerebral palsy, traumatic brain injured, the vision and hearing impaired, mental health clients, intellectually challenged individuals, and her specialty being individuals on the Autism spectrum. She has helped countless individuals with her warmth and caring. She currently works with special needs at teen center at the JCC of Pittsburgh. Iris provides with her skills, art therapy, music therapy, expressive therapy, movement therapy and meditation and guided imagery. She has created a CD for meditation and healing which is available for purchase. It is entitled A Mediation of Prayers and Healing and is available. She will also have additional guided imagery CD's for healing in the near future. Iris is also Director of Animal Welfare for Blupela. Her love of and compassion for all of the Earth's creatures makes her fitting for this role as the director in charge of all initiatives that deal with Animals and their protection and welfare. She can be reached by email at iris@oneworldblue.com.
Visit profile page for more!
Browse Planet Sanctuary Spotlights
Domestic Animals Monkey Helps Dogs to Cross River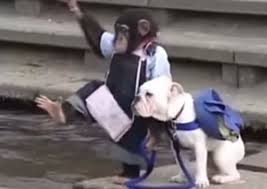 RELAX AND ENJOY. WHETHER YOU UNDERSTAND THE COMMENTARY OR NOT, IT IS JUST AS GOOD EVEN IF NOT IN YOUR NATIVE TONGUE!! PLEASE HAVE FUN AND REMEMBER WE ALL MUST LAUGH MORE IN LIFE AND CRY LESS.
MY BLESSINGS TO YOU AND THE BLUPELA COMMUNITIES WORLDWIDE
LET'S ALL DO WHAT WE CAN TO CREATE A BETTER AND HEALTHY PLANET
HAPPY 2016
IRIS ZIFF PIRCHESKY DIRECTOR FOR ANIMAL WELFARE OF PLANET SANCTUARY AND THE ONE WORLD BLUE CORPORATION, BLUPELA.COM
And In SUPERMARKET