A place to see good, share good, and do good.



LIFT 1 Lifted
What's
this? Your lift is: privatepublic.
Change to publicprivate.

11 Viewed
Aug 24, 2015 @ 04:28pm
The Project to End Human Trafficking:
Women and Children of Uganda Gallery Exhibition
Photography by Maranie Rae
Curated by Natalie Grandinetti
SEPTEMBER 10
LEARN MORE
6:00-9:00PM
Opening Reception
Square Café
1137 South Braddock Ave, Pittsburgh, PA
Exhibition Duration:
August 29th - September 30th, 2015
The Project to End Human Trafficking (PEHT) has been working in Uganda for the past 5 years and will be returning in November 2015. Attendees of the Exhibition will have the opportunity to make a donation and purchase prints. All proceeds of this event will directly support ongoing projects and initiatives.
This World Spotlight was created on Aug 24, 2015 @ 04:14:42 pm
Project by
Maranie

Maranie Rae: to find out more about maranie and to see her work visit http://maranierae.com
Visit profile page for more!
Browse Light on the World Spotlights
Freedom Project to End Human Trafficking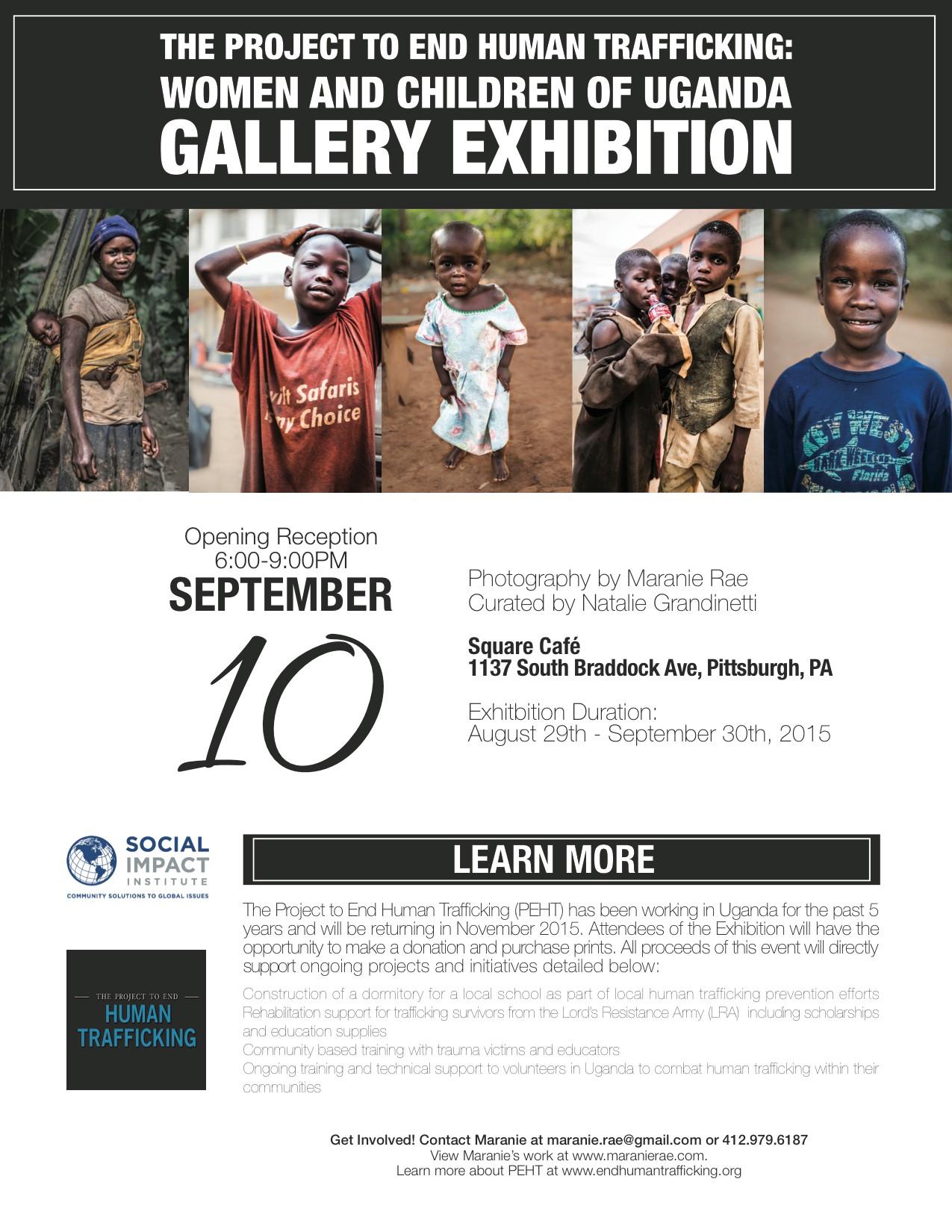 The Project to End Human Trafficking:
Women and Children of Uganda Gallery Exhibition
Photography by Maranie Rae
Curated by Natalie Grandinetti
SEPTEMBER 10
LEARN MORE
6:00-9:00PM
Opening Reception
Square Café
1137 South Braddock Ave, Pittsburgh, PA
Exhibition Duration:
August 29th - September 30th, 2015
The Project to End Human Trafficking (PEHT) has been working in Uganda for the past 5 years and will be returning in November 2015. Attendees of the Exhibition will have the opportunity to make a donation and purchase prints. All proceeds of this event will directly support ongoing projects and initiatives detailed below:
Construction of a dormitory for a local school as part of local human trafficking prevention efforts
Rehabilitation support for trafficking survivors from the Lord's Resistance Army (LRA) including scholarships and education supplies
Community based training with trauma victims and educators
Ongoing training and technical support to volunteers in Uganda to combat human trafficking within their communities
Get Involved! Contact Maranie at maranie.rae@gmail.com or 412.979.6187
© 2014-2018 One World Blue, LLC ®