HELP STOP BIG GAME HUNTING
What is the reason someone needs to feel like they have to take a bow and arrow and shoot something so beautiful as Cecil? Is it to feel more better about himself/herself or to feel what a strong person they are?
How absurd and hurtful and cruel. Why cannot we learn to love the Earth and its living beings and respect all life in a socially responsible manner?
It is good to see the action of these airline corporations take responsibility and work for change, saying no to those who would have other wise:
Take a Stand and Join Blupela and others Around the World in the Fight to Stop this Senseless and Barbaric Practice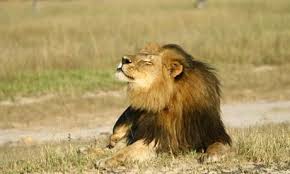 Story below retrieved from:
http://www.msn.com/en-us/news/us/delta-american-ban-shipment-of-big-game-hunting-trophies/ar-BBlmLbL?ocid=iehp
Original Story by:
csiemaszko@nydailynews.com
New York Daily News
8/4/15
Big game hunters who fly Delta or American airlines are going to have to find another way of getting their gory trophies home.
"Effective immediately, Delta will officially ban shipment of all lion, leopard, elephant, rhinoceros and buffalo trophies worldwide as freight," the airline said in a statement Monday.
American Airlines followed suit with a similar ban on Monday.
Delta is not stopping there.
"Delta will also review acceptance policies of other hunting trophies with appropriate government agencies and other organizations supporting legal shipments," the statement said.
The air carriers lowered the boom after two U.S. doctors became international pariahs after they were accused of illegally hunting lions in Zimbabwe.
The airline, however, insisted that "prior to this ban, Delta's strict acceptance policy called for absolute compliance with all government regulations regarding protected species."