Those of us living in Washington County, Pa have been getting dumped on for decades since the Arden Landfill accepts garbage from places as far away as New York City. Counties in eastern Ohio share a similar fate with fracking wastewater hauled in from Pennsylvania, West Virginia and other states for injection well disposal. What comes around goes around, eh?
Arden now accepts radioactive drilling & fracking waste too!
The old saying goes "misery loves company." But the misery we share with our neighbors in Ohio goes much deeper than that. While we Pennsylvanians have drilling and fracking regulated by the DEP (aka "Don't Expect Protection"), in Ohio they have the ODNR which has earned similar derisive monikers.
Yesterday, Ron rode north with me on a 282-mile roundtrip to Ashtabula County, Ohio for a 2-1/2 hour public forum on injection wells in Ohio. It was hosted by a township manager's association and included a group of township trustees (called supervisors or councilmen here in Pa.)
New Video:
OHIO INJECTION WELLS FOR O&G WASTEWATER

The meeting included a very interesting array of speakers who are officials. The county Recorder of Deeds had some very interesting comments about how drillers can 'flip' leases to other companies without even notifying the landowner. She said it is also extremely difficult to clear a deed held by a gas lease, especially when you don't even know which company currently holds it after it has been flipped.
My summary:
Ohio citizens face similar or worse problems than we have in Pennsylvania when it comes to any real regulation of the oil and gas industry. Back in 2004 and 2010, Ohio had most of their O&G zoning gutted by a Bill passed by their state legislature. It sounds similar to what Texas recently passed to remove local control and what would have been the result here in Pennsylvania if Act 13 hadn't been challenged and modified.
In the "Believe it or Not" category this is how Act 13 was written
So now you have the entire eastern side of Ohio (along the border with Pa.) covered with over 200 injection wells in 36 Ohio counties. While our open-air waste pits are still an oddity to some of the Ohio residents I spoke with, they are no strangers to the convoys of insufficiently placarded wastewater tankers hauling radioactive Marcellus Shale fluids into their state for disposal. Many of these injection wells are operated by small "Mom & Pop" style operations.
If I weren't already so familiar with this "stranger than fiction" story I would be even more alarmed by the lack of regulation and oversight of these disposal wells. As their emergency services director said, they have clear and annually reviewed criteria of what emergency responders should do in the event of an escaped lion, but NOTHING on disposal wells!
Poster at last evening's public forum
It was well worth (no pun intended) the 5 hours of driving and better part of my day to learn more about what our neighbors in Ohio are facing. As one speaker commented last evening, if their local citizens knew how critical this issue was with over 46-million gallons of radioactive waste already injected under Ashtubula County, that 400-seat high school auditorium would have been packed instead of being so sparsely populated.
OHIO CLASS II INJECTION WELL STATUS
Source: ODNR
Active injection: 202
Drilled or drilling: 17
Wells permitted: 22
Plugged or abandoned: 0
In a similar sense, Pennsylvanians are unaware or don't care about millions of pounds of radioactive drilling waste now going into over two dozen landfills in our Commonwealth, with nearly a dozen in our part of western Pennsylvania. It is showing up in creeks like Blacklick and Ten Mile. Radium 226 is water soluble and has a half-life of 1,600 years!
This graphic illustrates how much fracking waste went
into the Westmoreland Landfill during 2014
So here is the complete video of last night's meeting. It is viewable now but the quality will improve once YouTube finishes processing it in another hour or two (click the small gear at the bottom of the screen to change the viewing resolution). If you appreciate seeing this video don't forget to give it a thumbs-up vote!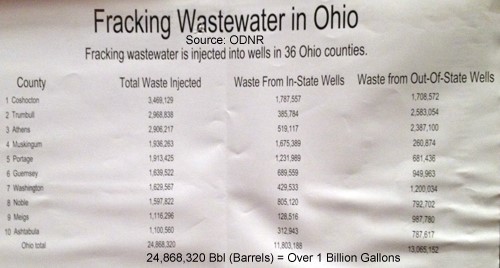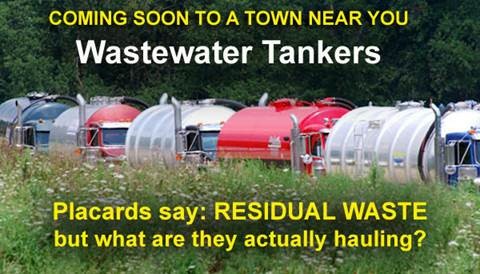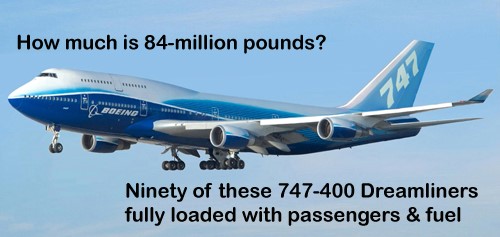 +++++++++++++++++++++++
SPILLING IS JUST THE BEGINNING