A place to see good, share good, and do good.



LIFT 2 Lifted
What's
this? Your lift is: privatepublic.
Change to publicprivate.
This World Spotlight was created on Oct 30, 2020 @ 07:03:37 am

Project by
Bernard Asper

Visit profile page for more!
Browse Light on the World Spotlights

#EndSARS is a grass-roots movement to end police brutality in Nigeria, a movement that grew from national to global proportions.
What is #EndSARS?
The hashtag first surfaced in 2017 as activists in Nigeria sought to abolish a federal police unit called the Special Anti-Robbery Squad.

Amnesty International said it has recorded 82 cases of SARS abuses over the past three years, including beatings, hangings, mock executions, sexual assault and waterboarding.
A video then surfaced online October 4. The footage shows officers dragging two men from a hotel and shooting one of them outside.

Protests erupted in the country's major cities. Demonstrators posted their grievances on Twitter and Instagram. Nigerians abroad and others swiftly joined in and within days, #EndSARS went viral.
What happened next?
Under growing pressure, the Nigerian Police Force announced on October 11 that it had dissolved SARS and fired at least two officers.

Celebrations didn't last long because demonstrators rejected the force's plan to redeploy members of the unit in other jobs.
Nigerian President Muhammadu Buhari pledged reform and urged citizens to be patient as leaders overhauled the national law enforcement system.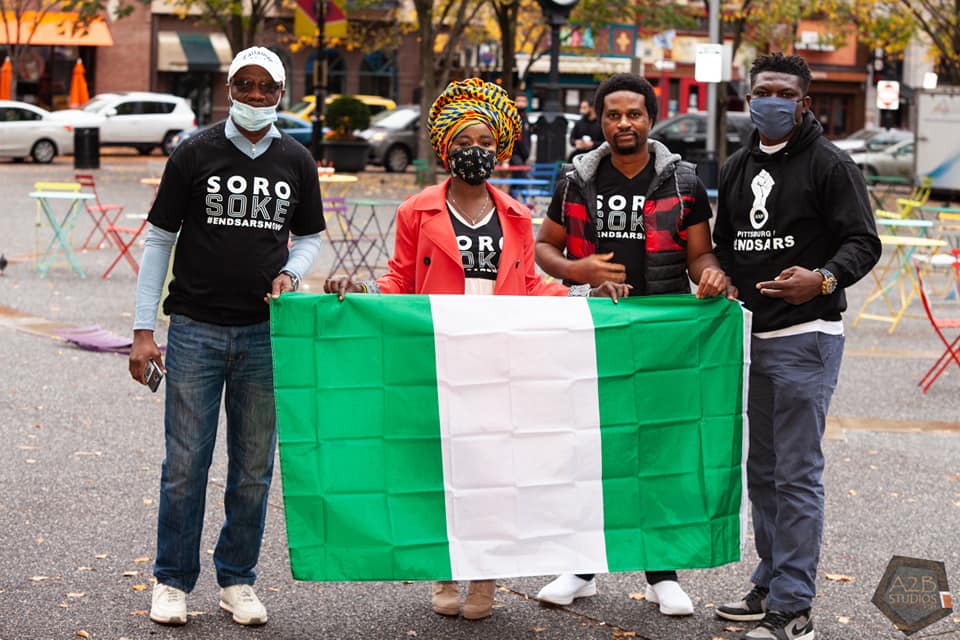 He asked protesters to clear the streets.
"Your voice has been heard loud and clear, and we are responding," Buhari said.
The government vowed to work with human rights groups on a new model and investigate atrocities of the past, telling people to come forward if they had ever endured hostilities at the hands of a Nigerian officer.

Leaders have promised police reform "four times in the last four years," said Bulama Bukarti, a Nigerian lawyer in London who represents victims of police brutality. "People are tired of lip service."
Protesters said peace was their aim — video shows large groups dancing and waving Nigerian flags — but authorities have accused "criminal elements" of torching, looting buildings and "unleashing terror on citizens," the Lagos state governor said on Twitter.

Nigerians and supporters in a peaceful protest in downtown Pittsburgh, joined in solidarity with other Nigerians and friends of Nigerians, from across the world to speak up in condemnation of police brutality and failed country.

They were gathered to say no to oppressions, no to corruption and bad government, no to looting and stealing of public funds, no to poverty and ill-economy. We believe by coming together we can begin to forge a better Nigeria, demand accountability from its leaders in all ramifications and strive for a new Nigeria, a Nigeria that is safe for all with good roads, good schools, access to good healthcare and more.

Thanks to everyone who came out to support the good cause. Our appreciations also goes out to Global Links Pittsburgh, Project Destiny Inc and PAAPO for providing Health packs to keep everyone safe from COVID-19. Big thanks to those who provided water and snacks. You are cherished. Not forgetting the City of Pittsburgh - Local Government for letting us use the Market square and for making sure we are safe during the peaceful protest.

Our voices must be heard our demands must be met, our country must be liberated, thank you Sahara reporter and other media outlets for propagating this revolution.
© 2014-2021 One World Blue, LLC ®