A place to see good, share good, and do good.
This World Spotlight was created on Apr 16, 2019 @ 12:00:18 pm

Project by
Taste of Pittsburgh

We are taking Legends and Legacies and moving it over to a digital platform. I am extremely excited to partner with One World Blue, www.oneworldblue.com. It is a Global Platform where we share stories of people who have made a difference and changed the world to become a better place. We drive stories regionally through social media as well as nationally and on an international stage for the most exposure and connections with individuals from all over the world. It's been a world-wide platform but we are putting an extensive amount of energy into regionalizing our platform. We share stories like yours where we drive them in the Pittsburgh region and other areas to maximize the most possible potential to have your story told. This partnership will allow me to use this technology to continue to inspire and uplift individuals in a day and age where everyone relies on the digital space. We are therefore very grateful and excited to have the opportunity to create this partnership with One World Blue. You have made a difference to so many people's lives and one which should be shared with not only the Pittsburgh region but to the world. Your story will touch lives which will bring understanding and healing to those who read and share it. We are looking forward to connecting you with more individuals and communities to share your life and touch them in a deep way. Please also know that our company structure is one in which we are walking the walk as well and we are giving 15 to 20 % of our company profit to both local, national and international charities.
Visit profile page for more!
Note: The author has marked this as inactive.
Browse Light on the World Spotlights
Earth Bob's Diner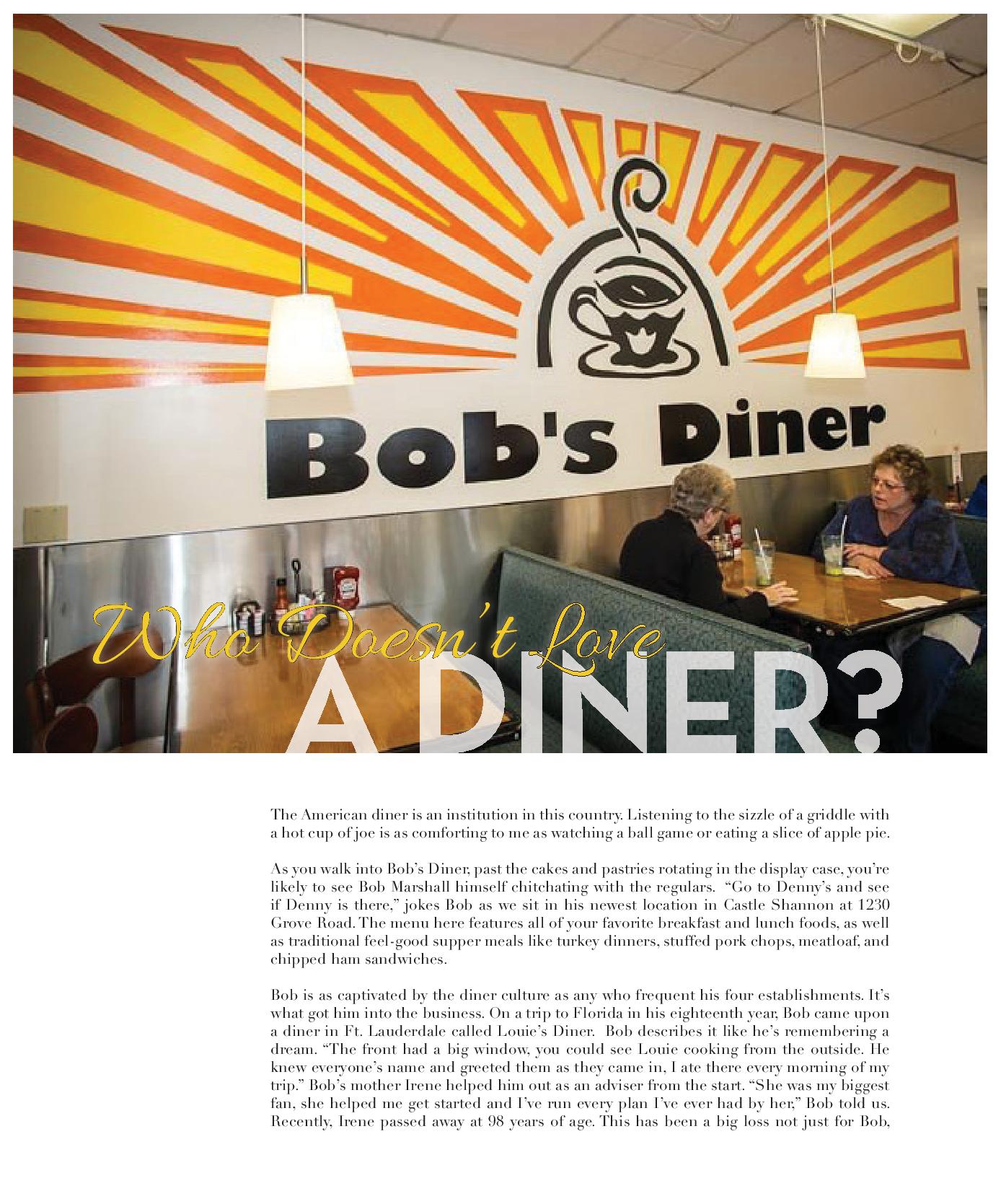 The American diner is an institution in this country. Listening to the sizzle of a griddle with a hot cup of joe is as comforting to me as watching a ball game or eating a slice of apple pie.
As you walk into Bob's Diner, past the cakes and pastries rotating in the display case, you're likely to see Bob Marshall himself chitchating with the regulars. "Go to Denny's and see if Denny is there," jokes Bob as we sit in his newest location in Castle Shannon at 1230 Grove Road. The menu here features all of your favorite breakfast and lunch foods, as well as traditional feel-good supper meals like turkey dinners, stuffed pork chops, meatloaf, and chipped ham sandwiches.
Bob is as captivated by the diner culture as any who frequent his four establishments. It's what got him into the business. On a trip to Florida in his eighteenth year, Bob came upon a diner in Ft. Lauderdale called Louie's Diner. Bob describes it like he's remembering a dream. "The front had a big window, you could see Louie cooking from the outside. He knew everyone's name and greeted them as they came in, I ate there every morning of my trip." Bob's mother Irene helped him out as an adviser from the start. "She was my biggest fan, she helped me get started and I've run every plan I've ever had by her," Bob told us.
Recently, Irene passed away at 98 years of age. This has been a big loss not just for Bob,but for the Bob's Diner family. "It's like losing the board of directors, your biggest cheerleader, and your mom all at once."
Bob's Diner was blessed with Irene's know-how and good sense from the start, and he'll carry that philosophy into the future, bringing happy families together just like his, all over Pittsburgh.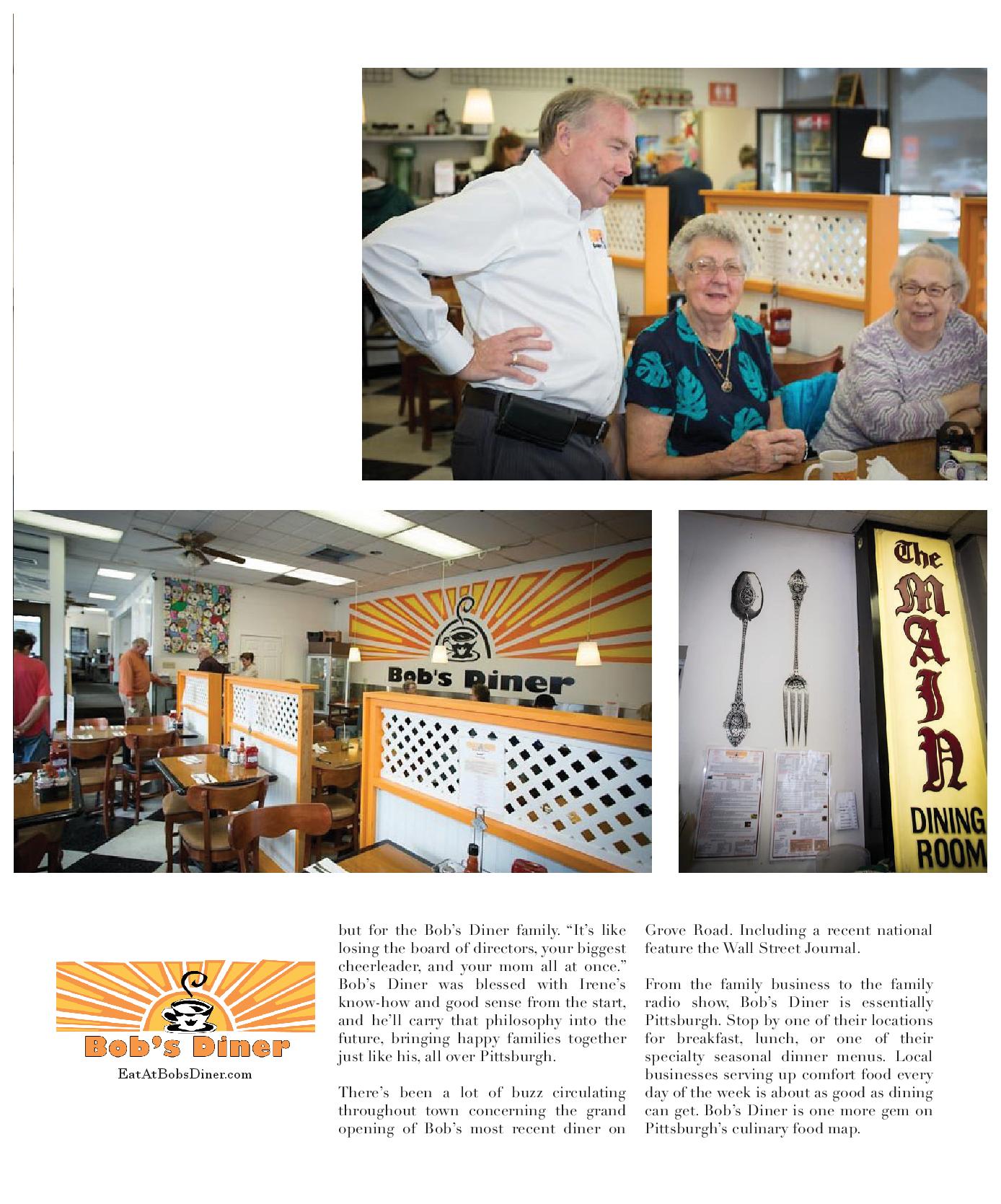 There's been a lot of buzz circulating throughout town concerning the grand opening of Bob's most recent diner on Grove Road. Including a recent national feature the Wall Street Journal.
From the family business to the family radio show, Bob's Diner is essentially Pittsburgh. Stop by one of their locations for breakfast, lunch, or one of their specialty seasonal dinner menus. Local businesses serving up comfort food every day of the week is about as good as dining can get. Bob's Diner is one more gem on Pittsburgh's culinary food map.
Locations
Carnegie
211 Mansfield Blvd.
Carnegie, PA 15106
412-429-7400
Hours
7am - 8pm Monday - Saturday
7am - 3pm Sunday
Castle Shannon
1230 Grove Rd
Pittsburgh, PA 15234
412-882-7400
Hours
7am - 8pm Monday - Saturday
7am - 3pm Sunday
Kennedy Twp
1815 McKees Rocks Road
McKees Rocks, PA 15136
412-771-7400
Hours
Daily 6:30am - 2pm
South Hills
1870 Painters Run Road
Pittsburgh, PA 15241
412-221-7474
Hours
7am - 8pm Monday - Saturday
7am - 3pm Sunday