A place to see good, share good, and do good.



LIFT 2 Lifted
What's
this? Your lift is: privatepublic.
Change to publicprivate.
This World Spotlight was created on Apr 8, 2019 @ 12:12:34 am

Project by
Taste of Pittsburgh

We are taking Legends and Legacies and moving it over to a digital platform. I am extremely excited to partner with One World Blue, www.oneworldblue.com. It is a Global Platform where we share stories of people who have made a difference and changed the world to become a better place. We drive stories regionally through social media as well as nationally and on an international stage for the most exposure and connections with individuals from all over the world. It's been a world-wide platform but we are putting an extensive amount of energy into regionalizing our platform. We share stories like yours where we drive them in the Pittsburgh region and other areas to maximize the most possible potential to have your story told. This partnership will allow me to use this technology to continue to inspire and uplift individuals in a day and age where everyone relies on the digital space. We are therefore very grateful and excited to have the opportunity to create this partnership with One World Blue. You have made a difference to so many people's lives and one which should be shared with not only the Pittsburgh region but to the world. Your story will touch lives which will bring understanding and healing to those who read and share it. We are looking forward to connecting you with more individuals and communities to share your life and touch them in a deep way. Please also know that our company structure is one in which we are walking the walk as well and we are giving 15 to 20 % of our company profit to both local, national and international charities.
Visit profile page for more!
Browse Light on the World Spotlights
Men Joe Hardy Founder 84 Lumber and Nemacolin Woodlands Resort
JOSEPH A. HARDY III
FOUNDER
84 LUMBER AND
NEMACOLIN WOODLANDS RESORT
AT 92 YEARS OF AGE, HE'S STILL A COMMANDING PRESENCE. CHARMING AND QUICK-WITTED, HE TELLS STORIES AND ANECDOTES THAT CAPTIVATE AUDIENCES AS HE YELLS OUT PUNCH LINES AT HIGH-VOLUME, DRIVING HOME HIS EMPHATIC BEHAVIOR. THAT'S AN EXAMPLE OF THE SAME COLORFUL DEMEANOR THAT NO DOUBT HELPED HIM CLOSE COUNTLESS BUSINESS DEALS AND REAL ESTATE TRANSACTIONS OVER THE LAST FIVE DECADES LAUNCHING HIM TO THE NEARLY UNPRECEDENTED LEVEL OF SUCCESS THAT THE HARDY FAMILY NOW ENJOYS.
NOTABLE QUOTE:
"I want to die broke. For the remainder of my life, I want to enjoy and participate in the giving of money to help improve people's lives."
BEYOND BUSINESS:
In 2004 Joe Hardy was named Vice Chairman of the Board of Commissioners of Fayette County where he resides. Hardy lead a multi-million dollar renovation of Uniontown, donating millions of dollars to support street and building improvements and construction of green spaces. He has received various awards from the local community for his charitable donations.
WHAT ARE OTHERS SAYING?
Hardy could turn a room into magnificent surroundings with his vision...When I walked out of that first meeting [I thought], Wow, this man is sensational. He's going to be a real success, and so is his Company." -Helen Dolfi, Green Hills Lumber transcriptionist, an excerpt from Nothing is Impossible by Jeffrey L. Rodengen
NOSE TO THE GRINDSTONE
He'll tell you that the money didn't come easily. He had to work hard for it. In fact, he still does. Mr. Hardy begins each afternoon by making 50 phone calls to his top-50 producing hardware stores across the country. Is it time for Mr. Hardy to slow down? He says no. "I wouldn't know how, I don't know any different." Plus, it's exciting for him, he loves business. "I like the score. To try to find out what people want and give it to them, everyone's different and to figure out what they want, that's really terrific."
"WHAT'S MY FAVORITE BUSINESS? THE ONE THAT MAKES THE MOST PROFIT."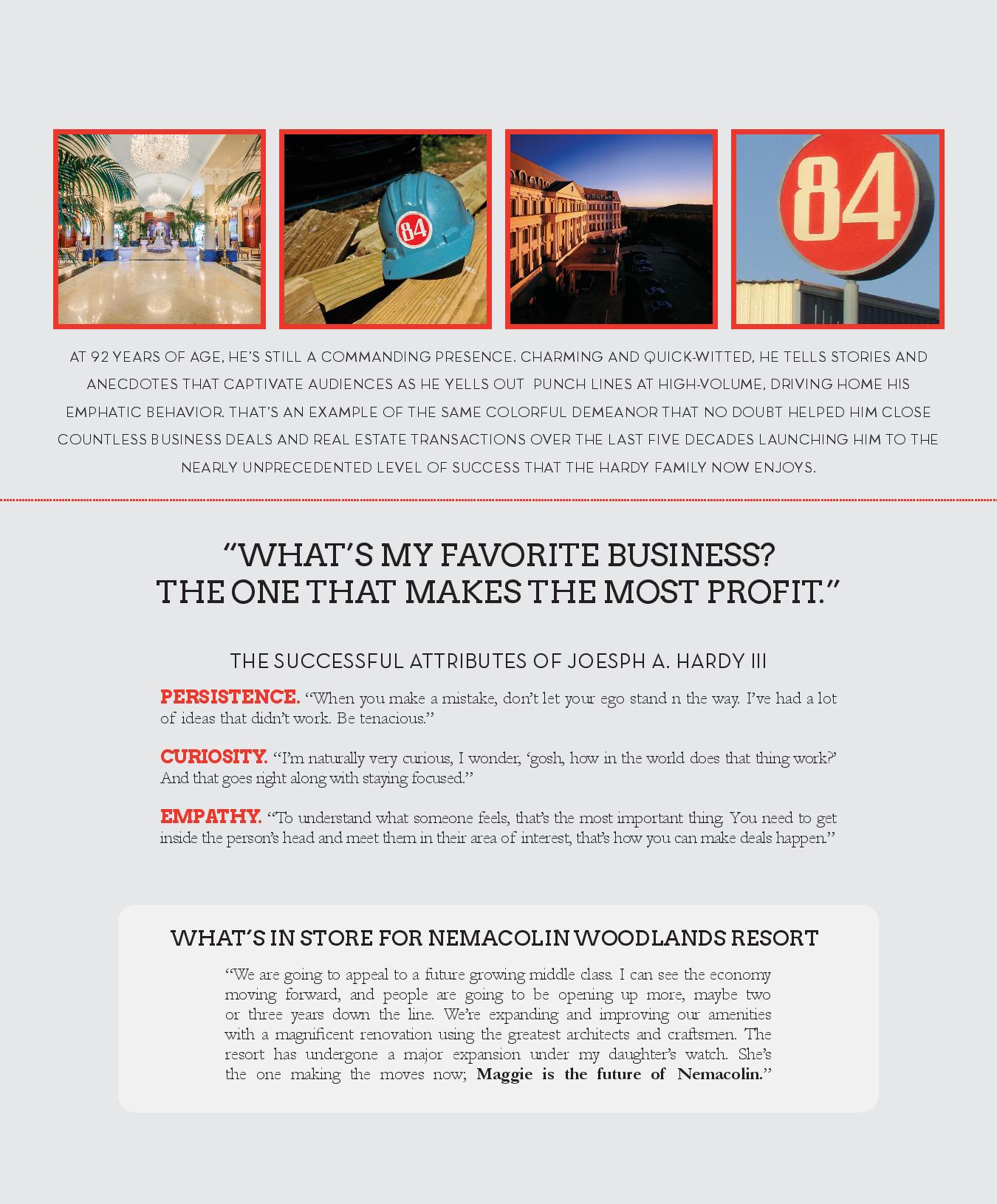 THE SUCCESSFUL ATTRIBUTES OF JOESPH A. HARDY III
PERSISTENCE.
"When you make a mistake, don't let your ego stand n the way. I've had a lot of ideas that didn't work. Be tenacious."
CURIOSITY.
"I'm naturally very curious, I wonder, 'gosh, how in the world does that thing work?' And that goes right along with staying focused."
EMPATHY.
"To understand what someone feels, that's the most important thing. You need to get inside the person's head and meet them in their area of interest, that's how you can make deals happen."
WHAT'S IN STORE FOR NEMACOLIN WOODLANDS RESORT
"We are going to appeal to a future growing middle class. I can see the economy moving forward, and people are going to be opening up more, maybe two or three years down the line. We're expanding and improving our amenities with a magnificent renovation using the greatest architects and craftsmen. The resort has undergone a major expansion under my daughter's watch. She's the one making the moves now; Maggie is the future of Nemacolin."
© 2014-2020 One World Blue, LLC ®