A place to see good, share good, and do good.



LIFT 1 Lifted
What's
this? Your lift is: privatepublic.
Change to publicprivate.
This World Spotlight was created on Apr 5, 2019 @ 02:35:33 am

Project by
Taste of Pittsburgh

We are taking Legends and Legacies and moving it over to a digital platform. I am extremely excited to partner with One World Blue, www.oneworldblue.com. It is a Global Platform where we share stories of people who have made a difference and changed the world to become a better place. We drive stories regionally through social media as well as nationally and on an international stage for the most exposure and connections with individuals from all over the world. It's been a world-wide platform but we are putting an extensive amount of energy into regionalizing our platform. We share stories like yours where we drive them in the Pittsburgh region and other areas to maximize the most possible potential to have your story told. This partnership will allow me to use this technology to continue to inspire and uplift individuals in a day and age where everyone relies on the digital space. We are therefore very grateful and excited to have the opportunity to create this partnership with One World Blue. You have made a difference to so many people's lives and one which should be shared with not only the Pittsburgh region but to the world. Your story will touch lives which will bring understanding and healing to those who read and share it. We are looking forward to connecting you with more individuals and communities to share your life and touch them in a deep way. Please also know that our company structure is one in which we are walking the walk as well and we are giving 15 to 20 % of our company profit to both local, national and international charities.
Visit profile page for more!
Browse Light on the World Spotlights
Sports Dick's Sporting Goods
An IDEA
That, and a $300 dollar loan from his grandmother's cookie jar, are what DICK'S Sporting Goods founder, Dick Stack, started with. The rest, as they say, is history.
Nearly 70 years on,
DICK'S is still a
family business.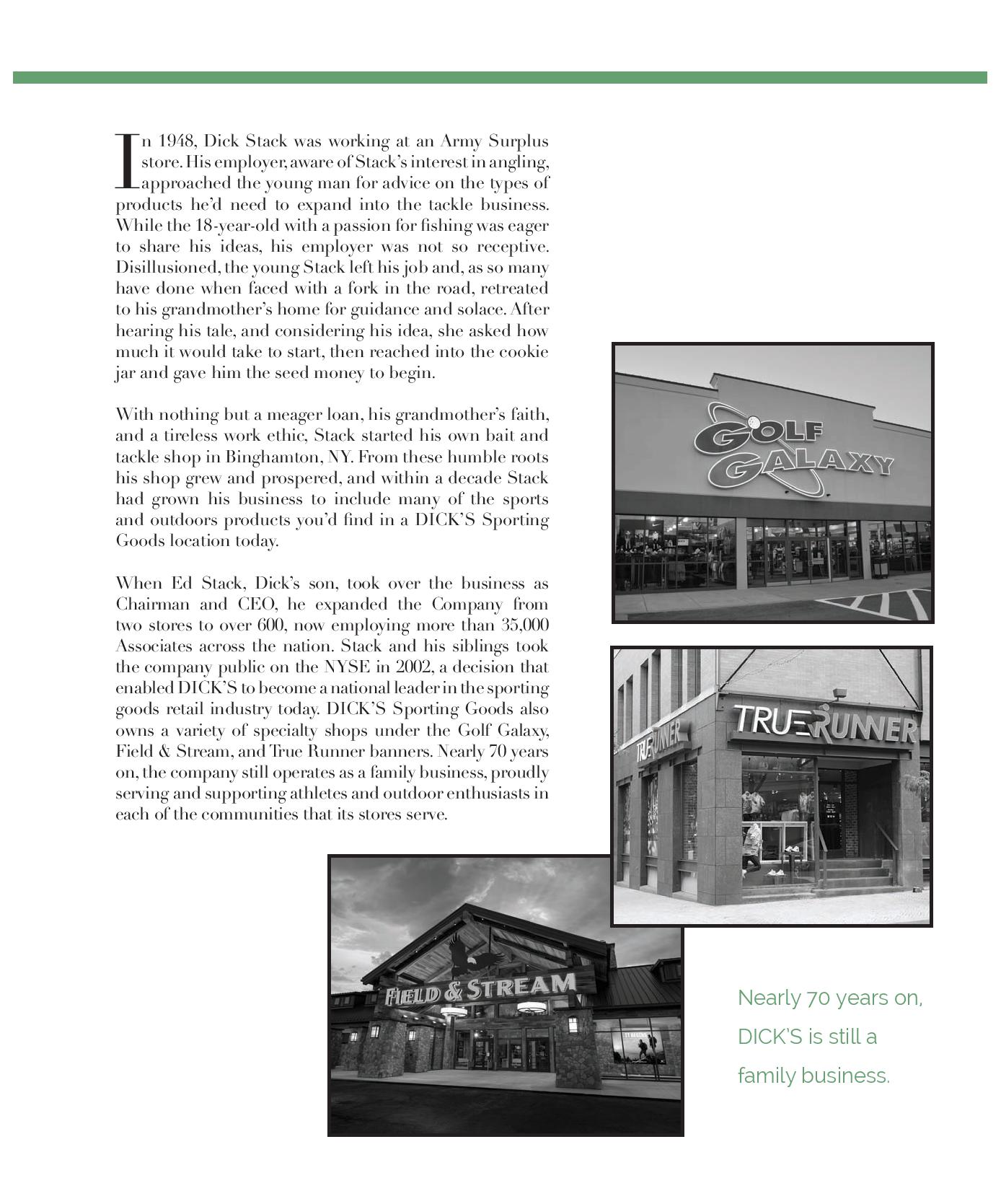 In 1948, Dick Stack was working at an Army Surplus store. His employer, aware of Stack's interest in angling, approached the young man for advice on the types of products he'd need to expand into the tackle business. While the 18-year-old with a passion for fishing was eager to share his ideas, his employer was not so receptive.
Disillusioned, the young Stack left his job and, as so many have done when faced with a fork in the road, retreated to his grandmother's home for guidance and solace. After hearing his tale, and considering his idea, she asked how much it would take to start, then reached into the cookie jar and gave him the seed money to begin.
With nothing but a meager loan, his grandmother's faith, and a tireless work ethic, Stack started his own bait and tackle shop in Binghamton, NY. From these humble roots his shop grew and prospered, and within a decade Stack had grown his business to include many of the sports and outdoors products you'd find in a DICK'S Sporting Goods location today.
When Ed Stack, Dick's son, took over the business as Chairman and CEO, he expanded the Company from two stores to over 600, now employing more than 35,000 Associates across the nation. Stack and his siblings took the company public on the NYSE in 2002, a decision that enabled DICK'S to become a national leader in the sporting goods retail industry today. DICK'S Sporting Goods also owns a variety of specialty shops under the Golf Galaxy, Field & Stream, and True Runner banners.
Nearly 70 years on, the company still operates as a family business, proudly serving and supporting athletes and outdoor enthusiasts in each of the communities that its stores serve.
© 2014-2020 One World Blue, LLC ®