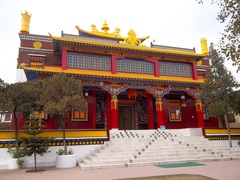 Directed by Olmo Ling chant leader Eileen Nadzam, Music for Menri provides Western instruments and music lessons to nuns in the Renla Menling Nunnery at Menri Monastery, India, as well as Western music education for students in the Menri Monastery school. Eileen is also building an extensive collection of transcriptions of Bon chants and other sacred music into Western notation to support their preservation for future generations.
PLEASE GIVE YOUR SUPPORT TODAY
IT IS GREATLY APPRECIATED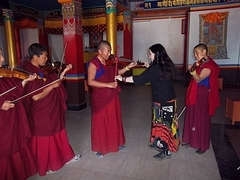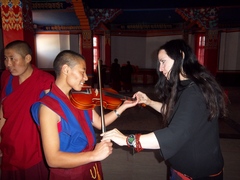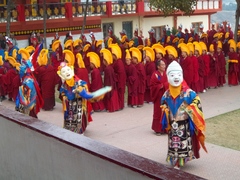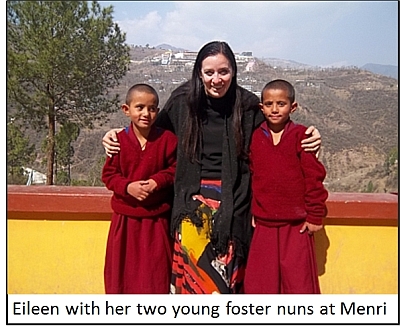 Eileen Nadzam has loved music since she can remember. She received a M.F.A. in Music from Carnegie Mellon University, is a member of the Pittsburgh Musicians' Union, and currently owns a music studio that serves a number of students. Eileen became interested in Tibetan Bon in 2008 when she met Tempa Lama, who had recently moved to Pittsburgh to start the Olmo Ling temple. When Eileen attended her first meditation and Bon talk with Tempa Lama, she felt as if she had "finally come home." As Eileen says, "Everything seemed somehow familiar to me." The music of the chants, and especially the vibrations within the chants, transported her to a beautiful place within herself.
Eileen decided to transcribe the Bon chant melodies into western musical notation so they could be preserved for posterity in their original form. Her first chant transcriptions were published in a book of chants that was presented to His Holiness when he visited Pittsburgh in June 2011. His Holiness then invited Eileen to spend time at Menri Monastery teaching the nuns Western music on the violin (an instrument he finds especially pleasing), as well as to record and transcribe music. The Music for Menri project was born!
Eileen and her husband John have generously donated violins for the project and also sponsor two young Menri nuns so they may have a complete education.